Established in 2014, the Pathfinder's Award recognizes individuals who have contributed significant service to helping men and their families deal with prostate cancer. See below for previous winners and their ceremonies.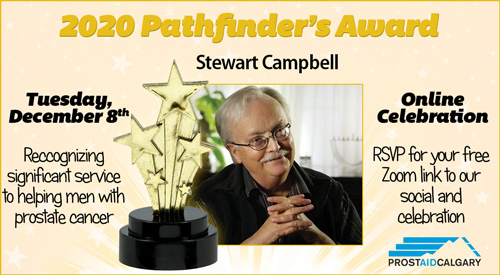 Click the image for more information on our Pathfinder Zoom meeting.
The Pathfinder Award is given to individuals who have made a significant contribution to the education, research, treatment, and support for men and their families dealing with prostate cancer.

It is with great pleasure that PROSTAID Calgary announces it's 2020 Pathfinder Award recipient, Stewart Campbell, Chairman of PROSTAID Calgary.

Stewart has said he is "living with cancer" having been diagnosed with high-risk prostate cancer in 2007. He has been on the board of directors for many years and has served as Executive Director, Treasurer, and most recently as Chairman.

Throughout his professional life as a scientist in the agricultural processing industry, Stewart was someone others turned to for advice and knowledge. That didn't change with his cancer diagnosis and since becoming a member of PROSTAID Calgary he has been using his skills to help fellow cancer patients.

Stewart always had a passion for research and he used that to learn more about his disease. He also has a keen interest in sharing the information, which he has discovered in medical literature, research studies, and oncology websites. Armed with the latest news about treatment options, research developments, and clinical trials, Stewart has been an active member of the PROSTAID Calgary Warriors group. ('Warriors' are men who, after having their prostate cancer treated, have had the cancer return.)

Even today, while undergoing another round of chemotherapy Stewart unselfishly is willing to share his knowledge with board members, newly diagnosed men and men looking for information about their own treatment options and recurrent disease.

Please join me in congratulating Stewart on this well deserved recognition. We are honoured to have him as a member of our Society and a valuable member of our board.