PROSTAID Calgary always meets on the second Tuesday of the month to support those affected by prostate cancer and to deal with health issues and featured topics of discussion.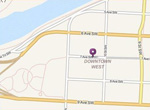 We now meet at Kerby Centre, 1133 – 7th Ave. SW. Parking is always FREE and the LRT stops right at the front door! The parking in the lot beside the C-Train stop is free, but you must register your vehicle's license plate on the tablet at the front desk inside (on the second floor). Please do not forget to register or you will be ticketed. Click here for a map to Kerby Centre.
• Always feature a medical guest speaker or healthcare professional.
• Time to share your experiences with others.
• Time to ask questions.
• Are always free and require no advance registration. Just show up and you will be warmly welcomed.

We understand that not everyone can make each and every meeting, so all of our meetings are archived online in video format for our members to explore. Visit our archive here.
Meeting reminders are sent out monthly in our Digital Examiner journal. For a free subscription with delivery to your inbox, click here.
For a list of upcoming meetings, click here.
---
If you have any other questions about our meetings get ahold of us!