The Digital Examiner is the monthly publication of PROSTAID Calgary. It keeps you updated on all the latest news and information about prostate cancer.
To subscribe to The Digital Examiner journal, fill out our simple form here.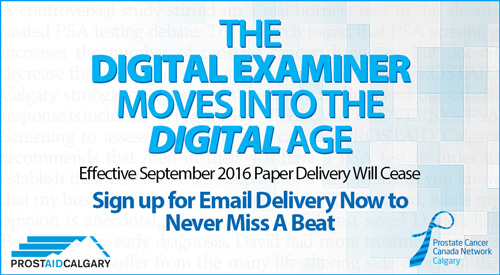 Effective September 2016, The Digital Examiner journal will go fully digital and cease Canada Post delivery. Full statement from President Dave Lunn.
Please click on the links below to download and view the latest issues of the Digital Examiner as .PDF files.
Additionally, the Prostate Cancer Centre newsletter can be found each month on their website here.
Issue: 214
File Type: .PDF
File Size: 2.11 MB

Includes: Happy 150 Canada, Dr. Linda Carlson bio, Bipolar Androgen Therapy, Staging and Grading Prostate Cancer, U of A uses nanotechnology to develop new test for aggressive prostate cancer, Thank you Canadian Tire Marlborough!, Upcoming Prostaid Events, Exercise Study for Men with Prostate Cancer, and more!
Issue: 213
File Type: .PDF
File Size: 1.63 MB

Includes: 5 Big Questions and Answers on Inherited Prostate Cancer Testing, Adding Hormonal Therapy to Radiation lengthens survival in men with recurring prostate cancer, Breakthrough study stops fat-eating prostate cancer cells, Exercise Study for Men with Prostate Cancer, and more!
Issue: 212
File Type: .PDF
File Size: 1.61 MB

Includes: AGM Invite, Volunteer Call Out, Androgen Deprivation Therapy (ADT), ADT: Possible Side Effects and Risks, Gynecomastia Induced by Prostate Cancer Treatment, Gynecomastia: Non Surgical Options, Gynecomastia: Suggestions from Calgary's Prostate Cancer Centre, and more!
Issue: 211
File Type: .PDF
File Size: 2.16 MB

Includes: The Importance of Rituals, Dr. Nawaid Usmani, Treating with precision radiotherapy cuts course of treatment by 50%, Prostate cancer patients report that surgery offers worst outcome on quality of life, 10 Prostate Cancer Truths That Might Surprise You, Tailgate for Charity cheque presentation, August 19 & 20 Cash Casino Volunteer Call Out, Welcoming New Board Member Jennifer Thorne, and more!
Issue: 210
File Type: .PDF
File Size: 1.49 MB

Includes: When Treatment Stops Working: Blame Resistance, Emotional Distress after a Prostate Cancer Diagnosis, Prostate Cancer Centre's Man Van Program, Men's Sexuality Survey, Volunteer needed for PROSTAID Calgary's Knowledge Library Resource Table, New Board Members and more!
Issue: 209
File Type: .PDF
File Size: 2.24 MB

Includes: Awareness events, Prostate Cancer Team Cracks Genetic Code to show why inherited disease can turn deadly, Radium-223 Reduces Hospital Usage for Skeletal Events, PROSTAID Calgary partners with ExDee and Wellness Computational Introducing Ease™ - Personal Health Navigator™, World of Wheels Volunteer Callout, University of Calgary Randomized Trial Patients Needed and more!
Issue: 208
File Type: .PDF
File Size: 1.71 MB

Includes: Prostate Cancer Canada's 2017 Step Up Challenge, Top Prostate Cancer News of 2016, HIFU For Prostate Cancer: Think Twice, Wellspring Calgary is Growing, and more!