PROSTAID Calgary/PCCN Calgary has many outreach activities during the year that need volunteers to ensure success. Please see below for upcoming events with volunteering opportunities, and consider signing up to help using our form below.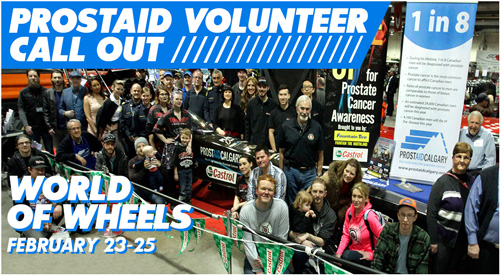 PROSTAID Calgary at the World of Wheels
Volunteer Callout
February 23-25
Are you interested in being part of the PROSTAID Calgary Volunteer Team at the World of Wheels? PROSTAID Calgary will once again be on location at the BMO Centre with Team Dark Side Racing. Year after year, the Dark Side Racing display is one of the most popular and sought out displays at the event.

Friday February 24 4pm—9pm
Saturday February 25 10am—9pm
Sunday February 26 11am—5pm

Volunteers are needed to sell tickets for the 50/50 Raffle, hand out PROSTAID Calgary brochures and promotional material, and help raise awareness to prostate cancer and the programs and initiatives offered by the Society. Shifts are flexible and can be scheduled for 2 - 6 hours.
Entry: Volunteers will receive free entry to the event during your shift.
Parking: Original receipt must be submitted to PROSTAID Calgary for reimbursement.
Food: Volunteers who work 5 hour shifts (or more) will be reimbursed for a meal. Maximum of $20. Original receipt must be submitted to PROSTAID Calgary for reimbursement.
If you're interested in volunteering, please contact Kelly. 403-455-1916 or info@prostaidcalgary.org
PROSTAID Calgary could not exist without the time and energy contributed by our dedicated volunteers.
Thank You!
////////////////World of Wheels
Fire Up Awareness Events////////
//////////AGLC Casino Fundraiser
Pathfinder's Award Celebration////
///////////Fun in the 50's Festival
Kerby Centre Senior's Fair////////
Calgary Police Service Wellness Expo
//////////Wine Festival Fundraiser
In addition to the current above events, we're always in need of support for our other activities, including:

• Helping set up our general meetings
• Managing our resource library
• Joining our speakers bureau and presenting information to service clubs, health fairs and businesses
• Supporting our mascot "Dr. Digital"
• Helping out at our annual "Show and Shine" Car Show
• Participating in various tasks at our casino major fundraiser (approximately every 14 months)
We always need more volunteers. If you provide your name and contact information below there is no obligation for specific tasks, just an indication that you are interested in helping PCCN Calgary achieve its goals. In addition, effective 2018 all volunteers must also fill out this form before volunteering.